As Miles Teller returns to the cinemas today with the intense boxing biopic Bleed For This, Sarah looks back at his best role and film, Whiplash….obviously.
Cinema and music have many things in common. But the most vital component of both of them is that they similarly provide an experience. The kind of experience that really moves you. As goosebumps slide down your neck, the beat of your heart causing your brow to feverishly sweat and you gasp, cheer and yell. The best experiences come from a ferocious films or an even more powerful concert. So imagine a film that impeccably combines the pair? Because going into Whiplash, and in the moments after, you won't feel the same. This experience is life changing.
The story follows wannabe jazz drummer Andrew Neyman who has been accepted into the prestigious Schaffer School, one of the best in the country. Shy, unassuming and without friends, Neyman practises around the clock to perfect his craft. When top tutor Terence Fletcher catches him performing, he invites Andrew to play with the studio band. However, Fletcher's style of teaching is abusive and unrelenting. As Andrew struggles to balance his career and his social life, all prevailing to be "one of the greats," he will be pushed to complete breaking point.
Whiplash is an entire beast of a film that bites into your flesh and refuses to let go. That beast comes in the form of commanding actor J.K. Simmons. Probably better known for Juno and The Spiderman Series, Simmons has completely shed any pre-delusions of his skill and smashed them like Andrew's dreams on the drum-kit. As he screams, yells and shouts abuse at his players (Neyman is not the only one caught on the wrong end of his range,) Simmons transforms into this powerful character that you want to hate solely but cannot find the full sense of loathing. Here is where Simmons thrives. As monstrous as Fletcher becomes, as far to the edge he has pushed people, he still retains shreds of humanity that comes through in drags. Fletcher is an utterly captivating and realised character that Simmon triumphantly brings to life in his dominant performance.
As impeccable as J.K. Simmons is (and I dare you to find a fault in this magnificent role), Miles Teller is able to hold his own as protagonist Andrew. In fact, Neyman and Fletcher are two entangling characters that shape and shift under different situations. Teller is endearing at first, with his passion that slowly unravels to near madness. And as much as you want to blame Fletcher, it is clear that at times Andrew is at fault for pushing himself too far. Miles is able to dash a prodigy with a balance of will and arrogance that makes you similar hate and love him all at once. Teller stands tall against the shit that Simmons is screaming at him, it's evocative and engaging to watch.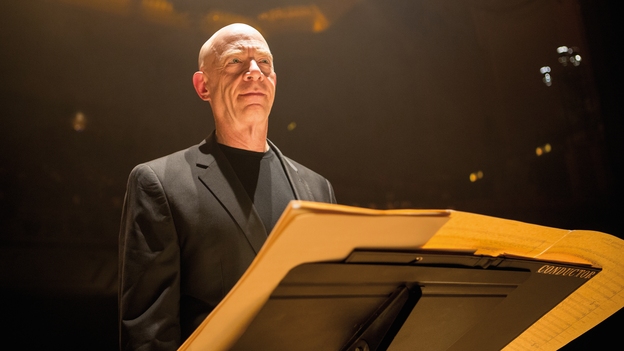 The direction is able to hold the fury and the passion, translating it through blistering imagery and concise story telling. Written by Damien Chazelle, Whiplash captures an essence of musician and subsequent art that has never been focused on before – the brutality of teaching and the carving of the genius. Chazelle's directing never loses this tempo, throwing the audience and Neyman into Fletcher's wrath early. Yet Chazelle simmers when it is needed then builds up momentum in shocking ways. Enhancing the film with these shocking and trembling images and exquisite cinematography, the director has done something fresh, intense and, in many ways, disturbing.
Whiplash is one of those films you must see. The adverse effects of "critical acclaim" may cause you to reverse away from it. But every praise for this film is on point and you cannot afford to have it missing. The delirious after effects that stay tingling within you is undeniably fierce. It will grab you in its blood grasps and taking you to places of humanity that you wouldn't know suffered for art. But Whiplash isn't a film.
It's a goddamn experience.
---
Bleed for This is out now.
Read our Review!