I can guarantee that Anna Kendrick is in at least one of your favourite things. Whether it be a Broadway Show, a blockbuster smash, or a quirky independent film, the young talented actress is bound to be a part of it. Kendrick is such a gifted performer that, at merely 31, she has conquered the stage and the big screen with Tony, BAFTA, Golden Globe, and Oscar nominations under her belt and critical acclaim for everything she does. She is also one of the funniest people ever to charm the internet and press circuit with a dry wit and brilliant energy.
Let's face it: With acting and singing talent, cool humour, and undeniable lovability, we all just really want to be (or be around) Anna Kendrick.
Starring alongside Aubrey Plaza, Adam Devine, and Zac Efron in comedy romp Mike and Dave Need Wedding Dates, we take a look at the Kendrick's best roles!
Honourable Mention: ParaNorman (2012), Scott Pilgram v The World (and End of Watch (2012)
Into The Woods (2014)


I don't know what's more daunting. Playing Cinderella in a Disney film OR singing Stephen Sondheim in the film adaptation of one of the composer's greatest work. Both these factors are exciting, thrilling, and utterly overwhelming but Anna Kendrick surpasses all expectations. In the enchanted kingdom, she plays the abused maiden turned into billowing princess after falling for a prince. However, this being Sondheim, there is dark embellishment (or more accurate) twist to the fairy-tale and in Cinderella's story, there is tar laden steps and birds that peck out eyeballs. As Cinderella, however, Kendrick adds another dimension to the famed princess far beyond her exquisite voice. Tender and loving, intelligent and strong, quaint and defiant, Kendrick's Cinderella is a glorious and nuanced.
She also has the best delivery of a line in the whole film:


Pitch Perfect (2012)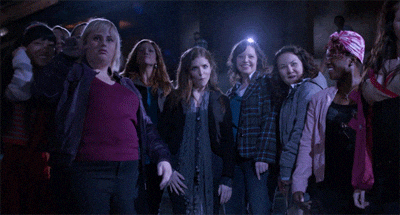 If you hadn't known of Kendrick before this aca-awesome comedy then this smash hit would've made her a household name in your DVD collection. The film about an all-girl acapella group that tries to tackle the world of making music with only their mouths sees Kendrick star alongside Rebel Wilson and Skylar Austin to great one of the most entertaining musical comedies of all time. With humour bouncing between surreal, dark, and wonderfully hilarious, Kendrick's sardonic and music loving Becca won a lot of hearts. Just try and watch the final performance without swelling up with pride and glee…
The Last Five Years (2014)
Yes. The third musical based film of Kendrick's on the list but perhaps a lesser known one. Skimming by with a tepid response, The Last Five Years is based on a stage musical of the same name and is a narratively complex and emotionally deep film. The plot revolves around the relationship of Jamie and Cathy through the turmoil of their titular long relationship. However, his story is told linear whilst hers move backwards in time. Anna Kendrick's performance was met with amazing critical acclaim as she evolves Cathy through the broken shards and the joyous beginnings, all the while singing her heart out through the visceral journey. It's a captivating, outstanding, and breath-taking performance of the tumult of love and all of its disasters.
Up In The Air (2009)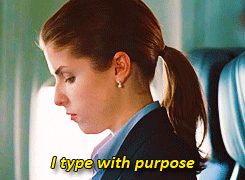 Of course, a list about Anna Kendrick would be bare without mentioning her turn in Up In The Air! The Jason Reitman drama that saw Kendrick scoop up an Oscar nomination for her supporting role sees the young talented actress star alongside George Clooney and Vera Farmiga. Kendrick here plays cooperate ingénue Natalie who aims to cut out the need for downsizer Ryan Bingham and the travel he does. As he takes her on trips to show her the importance of travelling, he starts to develop feelings for his frequent flyer hook-up. Anna Kendrick is great alongside her more experienced counterparts. Enthusing passionate and  fun content to her character, Kendrick soars high here.
The Voices (2014)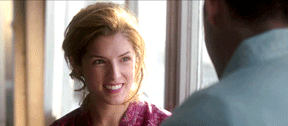 I'm a little bit biased popping this up at the top slot. No. Wait. No. I'm not biased because this is one of the best dark comedies of all time and every single actor within this cult film stirringly and excellently performs their best role to date. The Voices revolves around a sweet natured factory worker who talks to his cat and dog and, unfortunately, accidentally, murders someone. It all goes downhill from there. From Ryan Reynolds' broken Jerry to Jackie Weaver's desperate therapist, The Voices is a crazed and colourful spectacle that you all need to watch (Psst, it's Netflix.)
If you haven't watched it yet, I'd stay clear of the next paragraph.
Right so, Anna Kendrick. Man, Anna Kendrick's character has the most heart-breaking arc here and the actress impeccably conveys fear and innocence, enhancing the role with facetes of charm, flirtation, and actual care for Jerry. Sadly, her presence is snuffed out as Jerry's mentality becomes increasingly unhinged. Though there is jet black wit with Lisa's head joining the fridge with Fiona and babbling away at Jerry, her death is one of the most realistic ones on screen and, therefore, hard to watch. As she begs to go home after discovering Jerry's secret, the ripple of her genuine fear will rock through you. Accomplished perfectly by Kendrick, The Voices is definitely one of her greatest performances.
---
MIKE AND DAVE NEED WEDDING DATES IS OUT IN CINEMAS NOW!