Its been out for a week and there have been many words said about the all-female reboot of Ghostbusters. Out of respect, we'll keep the deluge of insults to a minimum. We don't want to give them the light of day because it is unfair, cruel, and unjust. In the wake of this new release, opinion generally states that the female led reboot was fun, frivolous and entertaining
The four ladies at the centre are, no surprise, comical geniuses. If you've ever doubted Melissa McCarthy's ability (lets be honest, she has had a few duds,) then she completely effervesces as Abby Yates, the constant believer. As for Kristen Wiig her (literal) straight laced character is imbued with a stunning emotionality far beyond the cynicism. If you don't like Leslie Jones and her impeccable comedic delivery, then I don't know if that's a race thing or a lady thing, but I'm mad as hell (especially after the recent, unprecedented, and awful Twitter abuse she had last night. You should all go to #LoveForLeslieJ and tweet about her awesomeness.)

These three aforementioned comedic heroes were incredible, this is true. But I've seen a wave of brand new love, discovery, and utter devotion to one character and the actress who plays her.
What name? Just say it loudly with me. One guttural cry of joy.
JILLIAN HOLTZMANN.
Played by?
KATE MCKINNON.

Sorry. Anyway, honestly, the world is in so much love. Myself included, which is why you are reading this article.
The first openly lesbian SNL actress has levitated into iconic status with a brand of superior quirkiness that could only be performed by McKinnon. As Holtzmann, she is in complete control of her agency, intellect, sexuality, and weirdness. The quiffed character on screen steals every scene that she is in which is surprising because of the fan furore that Kristen Wiig and Melissa McCarthy muster with every comedy they've done since Bridesmaids. The small blonde physicist has secured a position as this year's finest and most original character. Each line and delivery that falls out of her mouth is a quotable, energetic, and hilarious. It's seductive science wrapped around a silvery tongue that unfolds comedy and smarts within the same breath whilst also singing, making jibs, and dancing with fire. Literally.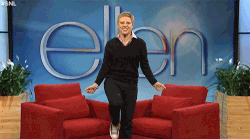 The queer actress has lit the heart of many woman across the board and has caused a stirring to explore your repertoire further than the paranormal catcher. The performer who does spot on impressions and sketches in SNL. Whilst it has been bleated about in many interviews her on point Justin Bieber and Hillary Clinton are must-see performances but her original characters such as Jodi Cork, Shelia Sauvage, and Barbara DeDrew (owner of Whiskers R We.)
Honestly, watch this miniscule highlight of her talent here.
She's also starred in earlier troupes such as The Big Gay Sketch Show and has done voice work for cartoons, features, and more. Her writing has been Emmy nominated and her effervescent personality captures you in every interview she makes. I'd suggest going to watch everything, you know, just in case you missed something. She is especially amazing when she talks about her cat. Because she loves cats…
Kate is seriously an impeccable human being.
Whilst I can imagine upon hearing this McKinnon would lean back in her chair, eyes wide, and shake her head comically, it's safe to say that her presence and Holtzmann character is truly important in this blockbuster era. An openly gay actress playing a supposedly gay scientist? That's mind-blowingly for young girls growing up either willing to head into complex sciences or seeing straight male characters monopolise the franchises. Here we have a highly impassioned woman who happens to be gay cavorting on the big screen with her intellect, licking guns for the shits and giggles of it, and rolling on to save a city.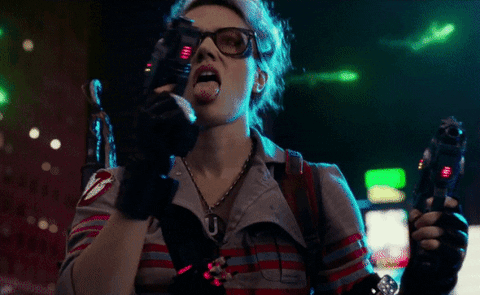 McKinnon is everything right now: Confident, witty, droll, weird, smart, empathic, and spirituous. With all the word chanting her name, she has a bright and brilliant future ahead.
A long, long, looonnnng career yeah universe?
Yeah.
---
GHOSTBUSTERS IS OUT NOW!