"La fête nationale!"
Or for English speakers, Happy Bastille Day! Yes, the day of all things French is upon us as we look to celebrate the country and its history. With that in mind we've decided to take a look into all things cinematic. However, we've tackled it with a twist and are looking at the great cult films of France – ones you may not have seen but probably should!
Un Chien Andalou (1929)

A barrage of iconic yet bizzare images unfold Luis Brunel and Salvador Dali's film that pursued the weird, wonderful, and sublime during the formative years of filmmaking. Un Chien Andalou reaches inside all of us and has imprinted its images that have stuck with us long after we first saw them. The film resonates in a way that we can accept its surrealism and weirdness because we have it within us. Un Chien Andalou is beautiful in its oddity and it lasts forever. What Brunel and Dali did was take our subconscious, accept its random non-linear ways because it is unforgettable and timeless. Un Chien Andalou is like melting watches in the desert, it is art.
Moving art that is there to be striped, analysed and provoke memory and emotion with us. Un Chien Andalou does just that.
Bande à part (1964)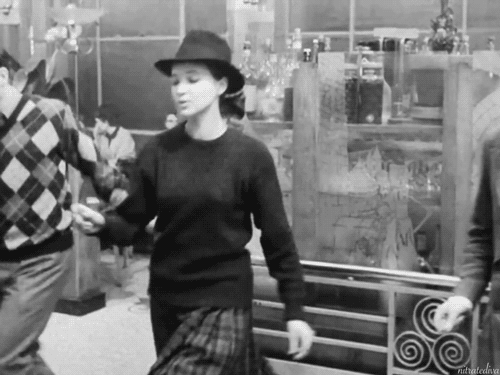 We couldn't write this list without including one Jean Luc Godard movie. The film master has crafted some wonderful pieces of cinema and unravels some complex characters with hilarious and thrilling elements to them. Bande à part is one of his bests and a movie that has inspired the likes of Quentin Tarantino (his production company is named after the movie.) The film revolves around three quirky and petty criminals who hope to make easy cash when one mentions a pile of money stashed away at her aunt's house. Naturally, it all goes awry which causes them to dash across Paris. The movie is charming and filled with lots of heart that is enjoyable, frivolous, and filled with New Wave romanticism that solidifies Godard as one of the best filmmakers of all time.
Les Triplettes de Belleville (2003)
Animation Academy Awards have been severely dominated by Pixar and Disney for a very long time. I bring this up because how the hell did The Triplets of Belleville not get an Oscar? I mean, who did win that year? Who the he- Finding Nemo? OK. Well, I'll allow it. But The Triplets of Belleville was still better!  The film revolves around Madame Souza who is an elderly woman going on a quest to rescue her grandson. See he is a Tour de France winner who has been kidnapped by the mafia and held to ransom. Luckily, Souza has enlists a whole heap of friends to help find her grandson including the titular vaudeville singers. Directed by Sylvain Chomet, the beautiful, sublime, and utterly unforgettable triumph of animation completely with stylish embellishment and brown and orange hues. Enchanting, invigorating, and inadmissible, a must watch movie.
Amelie (2001)

Audrey Tautou brings to life what easily could be a two dimensional character (the stereotypical manic pixie trope being rife.) The stellar writing of Guillame Laurant turns Amelie, a movie about a girl exploring the city of Paris in a fantastical way, into a movie about heart. People said they have fallen in love with Amelie and that's because of Tautou's incredible acting and Amelie's earnestness. The trick here is to mirror her lust for the unusual in her love interest, making her centre of the movie and watching her develop rather than be the mysterious object of affection.
Amelie has spirit and that oozes through the movie. Not one minute of this is unwatchable, it flows nicely with some unbelievably likeable characters. It is simplistic and good natured.
A funny film about a girl, named Amelie.
Delicatessen (1991)

Post apocalyptic France has never tasted so good. Or looked so terrifying. Delicatessen, a film directed by visionary filmmaker Jean-Pierre Jeunet revolves around a dystopian france where the tenants of a building try desperately to survive. As a new tenant arrives, butcher Clapet leads a group that strives for dominance and control. Often compared to Terry Gilliam, Delicatessen is a character study of humanity that is a zany and complex bizarre cult film. Black comedy has never seemed so morbid as characters champ at the bit for leadership….quite literally… a sordid yet achingly brilliant affair, Delicatessen is a juicy and palpable film!
La Cite des Enfants Perdus (1995)
Yes, yet another film by Jean-Pierre Jeunet but we can't help it, The City of Lost Children is a riveting film. Also, Ron Perlman took his time to learn French for this film. So please try as hard as you can to find a version that's not dubbed because it really takes away from the authenticity and joyful elements in Jeunet's gleeful work. The film is definitely a splendid combination of the childlike machinery that dystopian futures. It smarts of the classic fairy tale trope, a young orphan girl abused by her guardians finds courage with the help of a gentle giant. There are a whole host of imaginative things present here, delightfully combining the past with the clunky heaviness of machines. Magnificently portrayed, this triumphs as a movie and is an intriguing, absorbing watch.
La Haine (1995)

Back before Vincent Cassel was a seductive ballet teacher in Black Swan or a menacing gang leader in Trance (a film, by the way, that I believe everyone should watch,) he played a young rapscallion in the utterly evocative cult film La Haine. Centring on the skinhead youth of France, and painted black and white, this is a brilliant tale of three friends over the course of 19 hours in a multi-ethnic housing project. Following on from a brutal riot, Vinz (Cassel) is filled with rage and, inspired by Travis Bickle in Taxi Driver, wishes to kill a cop. There's also Hubert an Afro-French boxer and drug dealer coping with the loss of his club and much more gentle than Vinz and Sayid, who treads the middle between the pair. Starring Hubert Kounde and Said Taghmaoui alongside Cassel, this is a fantastic film that grapples art with a brutal plot at the centre of it. Powerful, raw, and vital – this is an impeccable film that should be seen by all and has received perfect critical acclaim ever since it first came out.
---
HAPPY BASTILLE DAY!