We live in a golden era where everything we loved in the past is coming back. Between the endless (and rotten) supply of movie remakes to the meagre and stupid incessant samplings of old songs, we really are swamped with over-bearing nostalgia. Naturally, to capitalise on this, the cast and filmmakers of
Since Cold Feet first aired, we've had a multitude of superb television shows that have made us go….ahem… WRHEREWR OH MY GOD URHEWUEWH. And there is a nagging sensation that Cold Feet wouldn't find it's, well, feet when returning to the small screen.
Is this a welcome return for the Manchester based crew?
So the plot for Cold Feet has been kept severely under-wraps and the embargo is really tricky to navigate so I'll say this: After a decade away, Adam is returning to tell his friends and family something exciting but the past still haunts him.
Cold Feet's opening episode is awash with happy memories and a reintroduction to an amazing cast whose assilimation back into their most coveted roles feels real and fresh. In fact, there is the general sense that the actors never truly left the rolls that made them famous and like slipping into a very soft sock, it's warm, comforting, and familiar. It's so natural that fans of the series will find it easy to fall back in love with the situations our fab (now) five have gotten themselves into. There are splashes of old territory and even glimpses and remembrance of Helen Baxendale's Rachel, splicing her into the plot in the most earnest of ways.
The biggest problem is editing and pacing. Not only do you have to catch up the audience with 13 years of exposition, but you have to rush them into a brand new series and a whole lotta hoopla. The set-up is rushed and choppy, so much is sped through the lowly hour that if you blink, you'll miss a whole chunk. Through snappy dialogue and the charming reunion of old friends, the opening episode misses a vital cog to an overall superb machine – interest.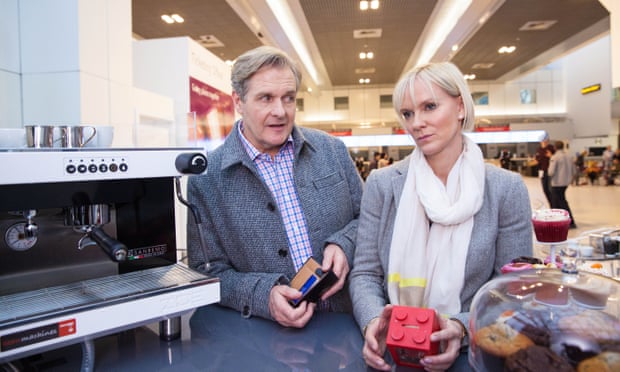 Whilst Cold Feet has always prided on the realness and human elements of the show, and sure enough this is refreshing against the rape, murder, and complex shows of now, there just doesn't seem to be a big hurrah to deem Cold Feet's return…interesting? There is hullabaloo and they run around like crazy but at the end of the episode, you are left feeling desperately empty and somewhat bored because you aren't given enough to cling to – only hopes of more drama down the line (presented in a Coming Up sequence and less added to the actual episode.)
By no means is Cold Feet a terrible return but it isn't an entirely necessary one either. It lingers within a space where you'll enjoy it, but won't be gripped by the opener. Still, with an impressive cast and some tender or funny moments, Cold Feet may get deeper as time progresses, pushing past the quaint and somewhat dull first episode.
---
COLD FEET AIRS TONIGHT ON ITV!